◆12.6.2018◆
Tradition and Innovation.
Our Commitment to Craftsmanship.
Looking back on history, gold-leafed jewelry and crafts were made with every luxury imaginable and were absolutely gorgeous to show off power. The artworks our ancestors wholeheartedly created are the traditional beauty of Japan that fascinate many people even today. Our duty is to build the new form of traditional craft that matches with the contemporary set of values while inheriting the technique the ancestors have developed.
Inheriting the traditional technique of the Kanazawa Gold Leaf and evolving into the new form, we can give birth to the tradition with the new set of values. It requires more than mere pastiche - we have to add novel sensibility, new ideas, and modern perspectives. Challenges beyond the industrial norms and common sense are also essential. We will commit ourselves to the production by handiwork, and continue to create new values for traditional crafts.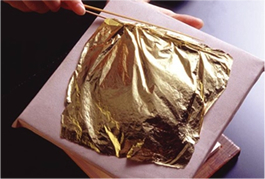 The Spirit of Hospitality.
Headquartered in the famous tourist destination of Kanazawa, HAKUICHI has 11 stores mainly in the same city. Our stores offer a wide range of the "Kanazawa Gold-leafed Craft" from souvenirs and gifts for tourists to special items for the celebration of important stages of life for locals. And we offer more than crafts. Our cosmetics and sweets are also popular. We keep a vast selection so that we can welcome a broad spectrum of visitors - Kanazawa residents as well as tourists from other regions in various generations from small children to the elderly.
The number of visitors amounts to several tens of thousands every year, just to look at our main store "HAKUKOKAN". We are committed to receive every single visitor with the "Spirit of Hospitality". Staying close to the needs of our customers, we are dedicated to making people who purchase our products or receive them as gifts happy.